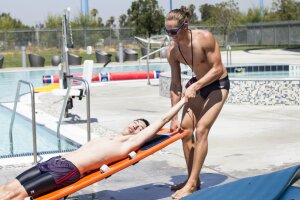 Goals and challenges
These days, many facilities deal with labor shortages. But the University of California, Riverside Student Recreation Center Aquatic Facility faces an even bigger challenge filling lifeguard positions: It can only hire UCR students. For a while, UCR dealt with this constraint by reducing programming and pool availability so a staff of 30 to 35 could handle it all. But as its program grew — and pressure mounted for more pool time and activities — UCR knew it needed to rethink its hiring and training process. For starters, that meant looking at who was eligible to hire. "It was at this point in time that we decided to take non-certified applicants," explains Frances Caron, assistant recreation director, aquatics program. "Our hiring process has significantly assisted us in recruitment. Once we opened our applications to non-certified applicants, we were able to increase our staff and meet the needs of our community and then some."
How they did it
Today, thanks to those changes, UCR now regularly employs 50 lifeguards. Typically 20 of those guards are hired annually and around 10 are turned away.
Along with beefing up the lifeguard staff, taking non-certified applicants offered two key benefits. First, doing so increased the pool of applicants. Second, applicants demonstrate their enthusiasm for the job through an investment of time and money — $35 and three full days of training.
"Since our hiring process requires applicants to invest in us, we have found a higher retention rate," Caron says. "I also believe that the development opportunities we provide while on our staff help with retention."
That's because UCR's training program does not just teach vital lifesaving skills, it also imparts key life skills. "We train our new hires, lifeguards and swim instructors in their 'book' skills," Caron says. "But we take it a step further and train them in life and leadership skills to keep them invested."
For example, lifeguards aren't just taught — they also lead training sessions and self-identify issues by viewing videos of their performance. There's also an annual leadership retreat in which staff learn everything from networking and interviewing to interpersonal skills to finance.
That investment has paid off handsomely. Not only is UCR able to fully staff its facility, but it also boasts a consistent crew. Almost all staff stay until they graduate. Given their training schedule, that's a big commitment.
Monthly, guards must complete a 2-hour inservice training, led by a group of their peers. They also must perform a monthly video/online training in which guards submit videos of themselves completing specific tasks. In between, there is bi-weekly spot training that tests guards on four to five different scenarios.
Annually all staff are instructed on topics that include sexual harassment, cyber security, heat illness and bloodborne pathogens. The guards also undergo sessions on the Child Abuse and Neglect Reporting Act and Praesidium Child Abuse Training, as well as a series of four modules specific to summer camp and swim lessons.