This property certainly was a labor of love and community. The construction charity organization AGC Charities partnered with local contractors to donate time, money and expertise to build the park.
The grounds were developed to be wheelchair friendly and safe for those with balance issues. Grades were minimized so wheelchairs would not have to go uphill. Pooling of water also was managed more tightly than normal to prevent slipping hazards.
Developers of the property worked with a research laboratory and two companies to come up with three new technologies — a waterproof wheelchair designed for those who need to be pushed by a caregiver; another for those who can operate their own; and a system to power the waterproof wheelchairs by compressed air rather than batteries, reducing their weight by about 80%.
The seven-story lighthouse features a rotating beacon on top and visually anchors the property.
Visitors travel more than 1/8 mile through a jungle setting in this riverboat cruise. The dock and boat were made so users can walk or roll on and off without an ADA-compliant ramp, or the need to step up and over. The boats themselves feature lifts.
Developers of the park sought to provide the special-needs community with experiences it might not otherwise have. They also wanted to create a place where visitors could play alongside others with disabilities – and those without them, to foster greater understanding.
Features were made for easy operation by those of all abilities.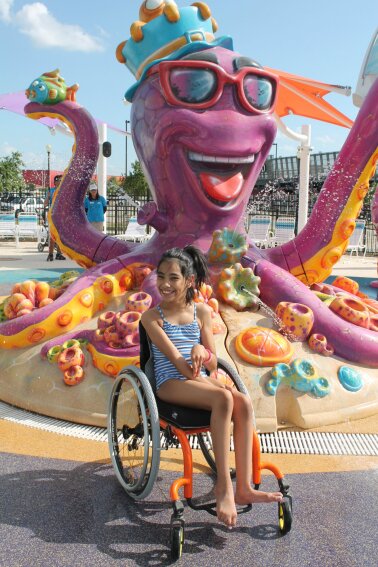 Vibrantly colored features such as this giant spouting octopus lend a whimsical feel to the tropically themed attraction.
Chlorine alternatives such as ultraviolet light were used as much as possible to minimize the chemical for those visitors who are sensitive.