We're coming up on trade show season for the industry and one of the bigger ones is the World Waterparks Association trade show in Palm Springs, Calif.
The show starts in late October and will last from Sunday, October 18 through Friday, October 23. If you're considering attending check out www.wwashow.org
There will be tons of exhibitors there and many will be displaying their services and wares. Check out just a few of the available products below:
All Chem Performance Products
Product: Clarifier Tablets Works with pool filtration to remove up to 99 percent of cryptosporidium. They also aid in the coagulation and removal of organic and inorganic compounds that cause dull or cloudy water. The concentrated blend of synergistic polymer clarifiers is available in 10- and 42-pound packages. A commercial-grade feeding device requiring no additional pumps is also available.
Contact: AllChem Performance Products, Corsicana, Tx. 352.378.9596
Arch Chemicals/Lonza
Product: Pulsar feeder NFS-listed pulsar feeder have an HMI touchscreen control box. Box allows feeder to wash down automatically, turn booster pump on and off for less energy consumption, and control the safety switches. The feeder will accurately dose a highly concentrated 2 percent chlorine solution, per maker.
Contact: Lonza, Germantown, Wis. 800.654.6019
Architectural Design Consultants Inc
Product: Waterpark Design Consulting Features: ADCI is a consulting firm that works in the waterpark resort design industry. Firm's portfolio includes 50% of the top waterparks in the United States, per maker. Firm is internationally recognized in the entertainment and leisure industries. ADCI also works in senior housing, commercial, educational, municipal, industrial and mixed use markets.
Contact: Architectural Design Consultants, Inc., Lake Delton, Wis. 608.254.6181
BECS Technology
Product: Controllers
Features: firm designs and manufacturers water chemistry and equipment room controls. Controllers include integral Ethernet, alarm notifications by email and text message, VFD interfaces, BECSys Now mobile app and BECSys for Windows PC software. Entire line of products is NSF certified. BECSys line of controllers have proven record of reliability, per maker.
Contact: BECS Technology, St. Louis. 314.567.0088
Delta UV Ultraviolet Solutions
Product: Ultraviolet products Features: low- and medium-pressure Amalgam units offered to fit most sizes and types of aquatic pools. Environmentally friendly units eradicate micro-organisms and remove chloramines, per maker. Uses UVC clean light technology. Designed to disinfect against crypto, giardia and e-Coli. Made to prevent red-eyes, dry skin and hair damage while improving air and water quality, per maker.
Contact: Delta UV Ultraviolet Solutions, Gardena, Calif. 866.889.8765
Empex Watertoys

Product: Interactive Waterfeature Features: firm's Aquatropica line of interactive waterfeatures includes leafy flora and zany fauna, all intended to provide a unique water playground for kids up to age 12; structures with slides also are available to create a dynamic tropical centerpiece
Contact: Empex Watertoys, Ontario, Canada. 905.649.5047;
Life Floor
Product: Flooring Tiles are durable and engineered for safety, especially in aquatic environs. Features built-in RepelCell technology, which means the tiles are antimicrobial and easy to clean. Tiles have critical fall height of 1 foot. Per maker, surface becomes more slip-resistant when wet and ideal for splash pads, spray grounds or any other barefoot wet areas.
Contact: Life+Floor, Minneapolis, 612.567.2813
Lincoln Aquatics
Product: Vacuum Features: firm's DuraMax Duo automatic vacuum cleaner is designed to save pool operators money. Vacuums available for any size pool and budget, per maker. Can be deployed at overnight for a clean pool in the morning. Return on investment is less than one year, per maker.
Contact: Lincoln Aquatics, Concord, Calif. 925.687.9500
Pentair Commercial Aquatics
Product: Disinfection Firm's BioShield CLP UV provides secondary disinfection and cost-savings by reducing chemical usage and improving water and air quality, per maker. Designed to protect against chlorine-resistant micro-organisms, per maker. Acu Drive XS variable frequency drive is designed to add on to pumps. Reduces energy consumption and gives savings up to 60%, per maker.
Contact: Pentair Commercial Aquatics, Sanford, N.C. 800.831.7133
Polin Waterparks
Product: Waterslide Features: Surf Safari features 40-degree sloped entrance. Unique parabolic design creates an illusion that adds to adrenaline filled experience, per maker. Bowl-design sends four-person rafts through twists and turns that end in pool or run-out exits. Can be themed to match park's concept. Available with Polin Waterpark's Magic Shine finish.
Contact: Polin Waterparks, Dilovasi. +902626566467
Poly Solutions
Product: Pool Coating Features: company offers UPOC Natural, an easy-to-use, earth-toned, VOC-free coating product; can be applied in one coat to nearly all substrates for a natural-looking environment for fish and plants
Contact: Poly Solutions Inc., Gibsonia, Pa. 724.449.1040
ProMinent Fluid Controls, Inc.
Product: Ultraviolet System Features: Dulcodes-A UV systems ideal for photochemical decomposition of combined chlorine in treatment of pool water, per maker. Medium pressure UV lamps generate polychromatic UV radiation to reduce eye irritating and strong odor producing substances. Designed to reliably kill chlorine-resistant germs, including crytosporidia.
Contact: Prominent Fluid Controls Inc., Pittsburgh, Penn. 412.787.2484
Shade Creations by Waterloo
Product: Umbrella Features: Pinwheel Hex umbrella is a whimsical product that creates fun and playful environment, per maker. Optional spinning or stationary top. Frame consists of powder coated steel. Umbrella panels available in variety of colors and fabrics to match any theme.
Contact: Shade Creations by Waterloo, Waterloo, Iowa. 800.537.1193
Vortex Aquatic Structures Int'l.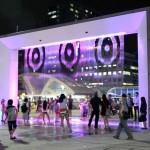 Product: Water Feature Features:Watermark, by Vortex Aquatic Structures, is a cutting-edge architectural installation that creates patterns and words by synchronizing lights and manipulating the flow of water. It features 25 valves per 3.3-feet unit, which generates clear words, logos and patterns that create unique sequences with tailored messages. Its designs can be easily updated via a secure app, making it ideal for advertising, welcoming guests and showcasing promotions.
Contact: Vortex Aquatic Structures Int'l, Quebec, 514.694.3868
Water Safety Products
Product: Lifeguard Supplies
Features: firm's latest in product development includes new rescue breathing mask, tech stretch board shorts for adults, new chlorine-resistant uniform rash guard, lifeguard footwear and hip pack
Contact: Water Safety Products, Indian Harbour Beach, Fla. 800.987.7238
Water Technology, Inc.
Product: Planning and Consulting Features: company offers aquatic planning, design and engineering for facilities of all different sizes and types
Contact: Water Technology, Inc., Beaver Dam, Wisc., 920.887.7375
WhiteWater West Industries Ltd.
Product: Waterslide game Features: Slideboarding is world's first video game waterslide, per maker. Integrates riding a waterslide with the challenge of multi-level, multi-purpose gaming. Game is designed to appeal to all ages and skill levels. Riders use the Slideboard and attempt to hit targets for points and to unlock new levels.
Contact: WhiteWater West Industries Ltd. Englewood, Colo. 604.273.1068