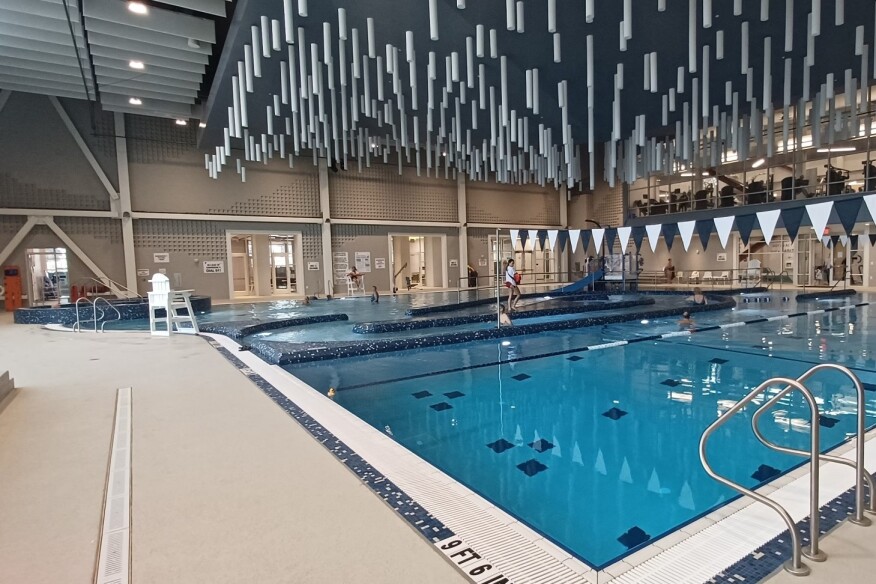 Bedford Center YMCA at Generations Park
Bedford, Texas
Architect: Oxley Williams Tharp Architects
Aquatics Designer/consultant: Water Technology Inc. (WTI)
Pool/Spa/Water Feature Contractor: Sunbelt Pools
General Contractor: Steele & Freeman
Civil/Structural Engineer: GRAEF
View All 5 Photos
2023 Dream Designs
Bedford Center YMCA at Generations Park
Bedford, Texas
Category: Leisure Pool/Family Aquatics Center
Play slideshow
Organizers wanted an aquatics center that would not only attract locals, but also serve as a destination for visitors from surrounding communities.
And the response was swift: Just weeks after opening, Bedford Center YMCA exceeded its membership goal.
Forward momentum
The facility includes both indoor and outdoor aquatics spaces. Permeating the spaces, both indoor and out, is the idea of movement.
This idea is emphasized through form and materials. The building featuring patterns of blue and gray meant to resemble motion. This is reinforced throughout the site with a variety of touches: Chevron shapes are used on structural members, light fixtures and ceiling patterns. A fluid wave pattern can be found in some CMU sound blocks inside, while a linear pattern is featured in others. Undulating ceiling and sound noodles indoors also convey movement.
The indoor, multifunctional aquatics facility contains a 5,962-square-foot pool with three lap lanes, geysers, a current channel and children's play area with interactive water-play features. This will hold most of the programming, such as learn-to-swim lessons, exercise and fitness, as well as lap swimming.
Also indoors, visitors can find two body slides, a warm-water spa and dry land features such as a gymnasium, fitness rooms, fitness mezzanine, party rooms and a large gathering room that accommodates approximately 250.
The outdoor waterpark was designed more for fun and recreation. Visitors will find a large lazy river and a zero-depth-entry leisure pool, two splash pads, and two water slides — one of which terminates in a plunge pool that leads to the lazy river.
The beach-entry pool is shaped like a seashell to draw younger children to the mini-geysers. For safe access, it gradually slopes down to an interactive play structure.
Outside the pools, the design team specified plenty of deck seating, as well as concessions and restrooms. The team included rentable cabanas, not only to add another revenue stream, but also to incentivize guests to stay longer than they would otherwise.
SUPPLIERS:
Chemical Control Feeder: BECS, Blue White
Circulation Systems/Gutters: Lawson Aquatics Grating, Strongwell Duragrid
Filtration: Neptune Benson
Heaters: Lochinvar
Interactive Waterfeatures: Spectrum Aquatics, Splashtacular
Pumps: Pentair
Racing lines: Antiwave
Sanitization Systems: Evoqua
Slides: Splashtacular