View All 8 Photos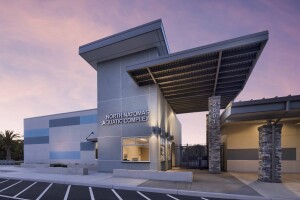 2023 Dream Designs
North Natomas Community Center and Aquatic Center
Sacramento, Calif.
Category: Leisure Pool/Family Aquatics Center
Play slideshow
North Natomas Community Center and Aquatic Center
Sacramento, Calif.
Architect: Studio W
Aquatics Designer/Consultant: Aquatic Design Group
Landscape Architect: Yamaski Landscape Architecture
Pool/Spa/Water Feature Contractor: Waterworks Industries
General Contractor: Otto Construction
Electrical & Plumbing Engineering: LP Consulting Engineers
Civil Engineering: Warren Consulting Engineers
Structural Engineer: Miyamoto International
Suppliers: See below.
This facility, in the 220-acre North Natomas Regional Park, plays a special role in the community, as the first to operate for 10 months a year and provide a gathering spot for the rapidly growing population.
In addition to including a broad spectrum of features to engage any interest or ability, the design team made intentional choices to make the space feel beautiful and comfortable to foster connection.
Thoughtful touches
The team wanted the property to feel more like a resort than a public pool.
To create this effect, they replicated the relationship between a living room and a beautifully landscaped backyard, crafting vistas that would connect indoors with outdoors. It was designed on an axis so those at the 8,000-square-foot community center can look out across the pool, while the center serves as a backdrop when viewed from the pools. Sliding doors open to a covered veranda overlooking the pools and a fire pit outdoors. By elevating this area, the designers created the feeling of a private deck.
In addition to reinforcing the living-room concept, these sliding doors can be opened up during large events to blend the spaces. Other buildings were positioned to visually block public access spaces and parking, while preserving views of the regional park.
Shed roofs and the use of metal and stone on the structures harken back to the region's agricultural history. Alternating colors on the siding update this look for a more contemporary feel, while reinforcing the idea of water.
Blues, greens and tans were used on the pools and slides to enhance the tropical vacation theme. Exotic plants such as palm trees, along with rich building materials such as stone and colored concrete, reinforce the resort vibe.
Serving as a visual focal point is a large sculpture called "Between the Toes," designed and installed by artist Terrence Martin of Jagged Edge Metal Art. The 15-foot sculpture depicting flip-flops serves as an easy-to-identify meeting place, adds to the sense of community, and sets the mood for aquatic fun.
A 50-meter Olympic-sized pool makes it possible to serve as home to the local high school aquatics program, Masters programs, and to host regional competitive swim meets, as well as nurture a growing water polo movement.
A 25-yard recreation pool with steps for children's lessons allow for affordable and accessible recreation for area children and families. For entertainment, designers included dueling 35-foot-tall water slides, and an activity pool for small children and families.
Underwater and overhead lighting allow for night-time events. Multiple chair lifts and walk-out stairs make the pools widely accessible.
SUPPLIERS:
Chemical Control Feeder: BECS, Knorr Systems
Circulation Systems/Gutters: Paco
Filtration: EKO 3 Systems, Knorr Systems
Guard Chairs: Paragon Aquatics
Heaters: Lochinvar, Knorr Systems
Pool Cleaner: Duramax Robotic Pool Cleaner, Aqua Products
Pool Covers: T-Star Enterprises, S.R. Smith
Pumps: Whisperflo, Paco, Knorr Systems
Racing Lines: Competitor
Slides: Whitewater West Industries
Springboards: Duraflex/Durafirm, Knorr Systems
Sanitization Systems: Evoqua