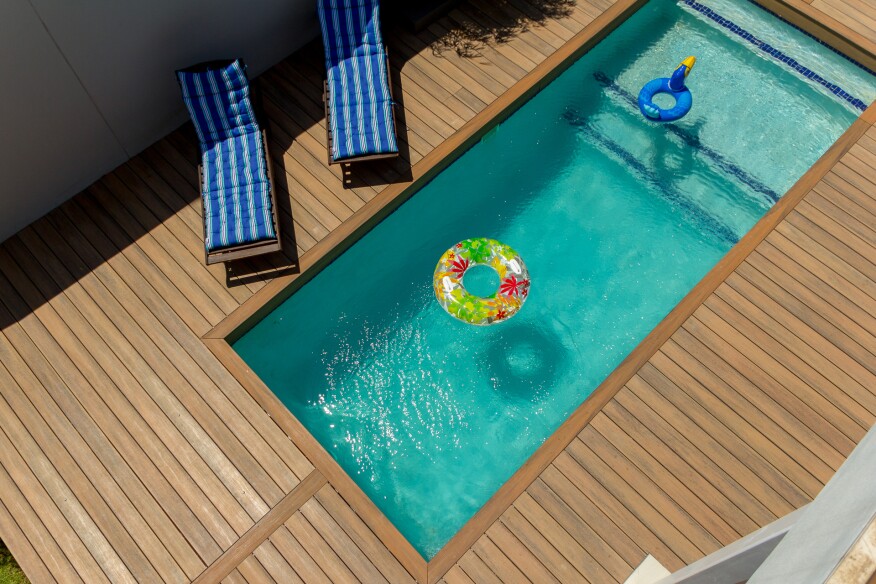 As families are spending nearly all their time at home, more apartment complexes and condominiums are increasing their shared outdoor spaces—particularly around the swimming pool and the rooftop decks.
Not only are existing developments adding more outside amenities, new construction of multifamily buildings are adding more outdoor spaces--individual balconies and terraces, private parks, or decks, so people can get outside, even if they're stuck at home.
"We have been very busy in the multifamily sector," says Matt Cappello, director of design for Westport Pools in St. Louis. Because everyone has been home in their apartments all the time, "we're seeing a lot of developers coming to us. It's not slowing down—it's growing." The pool projects he and his colleagues are working on span the entire country, including several apartment complexes in New York City, where outdoor space is harder to come by.
As more condos and multifamily residences are being built, people are seeking high-end amenities, including swimming pools. But a simple blue rectangle isn't enough—it's the luxury touches that accompany the swimming pool, including the furnishings, landscaping, lighting, outdoor kitchen and deck. But the deck needs to withstand high foot traffic and heavy use throughout the season. It also has to hold up to weather of all kinds (including freezing temperatures), chlorine, water, and regular wear and tear.
It's a mistake to think that wood is the only option for a pool deck with a rich look and feel. Few wood decks can handle that much use without frequent maintenance, which can become burdensome and expensive. Many also require extra care to ensure safety, especially with slippage when wet or on fungal growth.
Thanks to alternative wood products, builders can easily install a high-functioning, low-maintenance deck that's also beautiful and safe.
Fortress Building Products has developed such a material, called Apex PVC Decking. Unlike other PVC decks, it expands and contracts 25 percent less than other PVC decks (and even less than wood or composite wood). It has a high slip-resistance level, which is essential in a commercial setting. It's also anti-microbial, so mold and algae are unable to grow sufficiently.
Additionally, PVC decking is advantageous around elevated swimming pools, such as on a rooftop or a second story, Cappello says. Because the concern in these pools is related to what's going on underneath the deck, being able to examine leaks and cracks must be easy to address. "You don't want a rooftop pool leaking into some New York City million-dollar penthouse," he says.
For more information about decking for multifamily and commercial settings, visit Fortress.