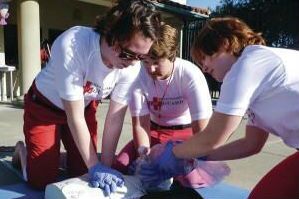 Kick your training up a notch this summer and participate in AI's 2016 Summer Lifeguard Challenge.
For our second annual challenge, we're once again teaming up with Lifesavers columnist Pete DeQuincy, aquatic manager at East Bay Regional Park District. We'll be presenting three videos of timed drills – one each month this summer – for aquatics facilities to practice with their guards.
How to participate: Each month, we'll release a video of the drill we're challenging you to perform. Practice the skill in the video and film your squad executing the drill. In the spirit of friendly competition, we want you to call out another facility's lifeguards in your video that you would like to take the challenge. Send your video to [email protected] either as an attachment or a Dropbox file. These videos will go up on our AI Video Gallery.
The results: Each month, DeQuincy will select the aquatics facility that outshines the rest, and that squad will receive an award from AI at the end of the challenge to display in the facility. An overall MVP facility will be chosen at the end of the summer and profiled in October's issue of Aquatics International.
For June, Pete wants you to glove up to resuscitate a victim poolside. Watch the video below for instructions. Email your video to [email protected] by Thursday, June 30.
Let the challenge begin!