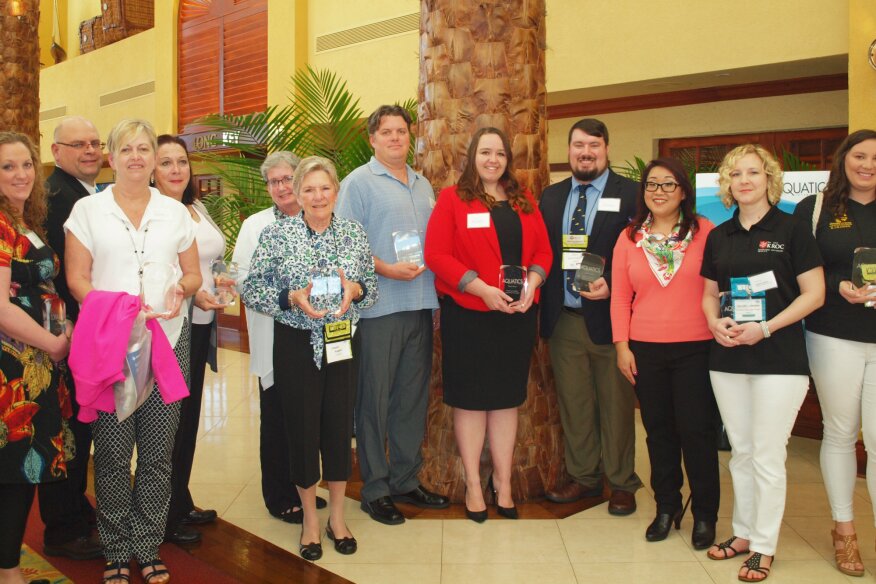 Once again, Aquatics International honored 20 groups and individuals at its awards breakfast -- this time near the turquoise waters of St. Pete Beach, Fla.
AI held its third annual awards breakfast on February 7 at the Association of Aquatics Professionals Conference in the Tampa-area city. Recognition went to honorees in two special issues -- Best of Aquatics, honoring facilities that demonstrate excellence in a given area; and the Power Issue, which celebrates professionals who have a lasting impact on the aquatics industry.
Additionally, two honorees gave talks to share the programs that landed them in the magazine. Jeff Fryer discussed how he prepared his team for the possibility of an active shooter -- and how they responded when such an incident became a reality. After hearing about a local shooting, the aquatic/fitness director of River Road Park and Recreation District in Eugene, Ore., decided to analyze his properties, develop a plan and drill his team for an active shooter. Last year, a fatal incident occurred in a park just outside one of its facilities, and the staff immediately went into action.
River Road was honored in AI's Best of Aquatics Issue in the training category.
Additionally, Lindsay Mondick, senior manager of aquatics for YMCA of the USA in Chicago, discussed her organizaton's Safety Around Water program, meant in part to baseline what skills should be required for a child to qualify as water competent and to instill children with safe instincts around water. SAW was launched in 2015 after Mondick and a team of aquatics professionals conducted months of research. Approximately 850 YMCA locations have pledged to offer the program, which provides two weeks of free lessons at semi-private pools.
The program earned her a spot in AI's 2017 Power Issue.
Award winners for 2017:
° Brownell-Talbot School, Omaha, Neb.
° Conroe Aquatic Center, Conroe, Texas
° Greensboro Aquatic Center, Greensboro, N.C.
° Mesquite Groves Aquatic Center, Chandler, Ariz.
° River Road Park and Recreation District, Eugene, Ore.
° The Salvation Army Kroc Center, Quincy, Ill.
° Shasta Family YMCA, Redding, Calif.
° City of South Miami Parks and Recreation, South Miami, Fla.
° Whirlin' Waters, Charleston, S.C.
° Willoughby Parks and Recreation, Willoughby, Ohio
° Catherine Barry, American Red Cross
° Rob Butcher, Swim Across America
° Matt Farrell, USA Swimming
° Cindy Freedman and Ailene Tisser, SwimAngelfish
° Myriam Glez, USA Synchro
° Adam Katchmarchi, NDPA
° Lindsay Mondick, YMCA of the USA
° Andrea Salzman, Aquatic Resources Network
° Nicole Van Winkle, Counsilman-Hunsaker
° Lake White, Starfish Aquatics Institute