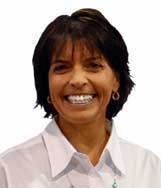 Her interest in aquatics was sparked by a big pipe that squirted water around a playground at the Newark, N.J., housing projects where she grew up. Friends and family would spread a picnic blanket and lie on towels on what she calls their "asphalt beach." Today, Judith Leblein fondly remembers whiling away hot summer days by that water pipe, and coming to admire the playground directors who ran the park.
The operations analyst for Beaver Dam, Wis.-based Water Technology Inc. has spent the past 30 years trying to mold equally admirable facilities and operators. In the process, she's become a popular speaker and consultant, and one of the aquatics industry's best-known personalities. Indeed, the sunny 50-year-old embraces the aquatics community like a large family gathering.
Today, Leblein works from her home in northern New Jersey, where she lives with her husband and two teenage stepsons.
The highlight of her career came in 2003, when she was inducted into the World Waterpark Association Hall of Fame. "For a long time, public parks weren't taken seriously," she says, noting that her induction meant her efforts to bring municipalities to light were not futile. "That was pretty exciting."
But it's still that water pipe from her childhood that underlies Leblein's passion for aquatics — and her desire to spread that passion.
"There's great social value in aquatics other than a paycheck," she says. "They never know whose life they're going to touch through aqua-tics or recreation, and whose life they've changed." — Rin-rin Yu