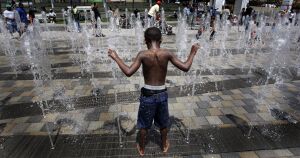 In recent years Detroit area swimmers have faced a rising lack of access to public pools. It's come from a myriad of factors from budget cuts, perception issues, changing tastes and rising exclusivity.
There are public pools in the Detroit metro area, 1200 in fact. However, most (at least 90%), are behind gated subdivisions or in marinas or swim clubs.
All of those places require residency or some kind of membership fee which can be unfeasible for even most middle classes.
Detroit has two accessible outdoor public pools and three splash parks. However, due to the lack of accessible pools all five parks are overcrowded.
One statistic reported in Detroit News stated that 100,000 of the city's 120,000 youth don't know how to swim.
Interestingly the deficit of public pools isn't relegated only to poorer areas of the city:
In many affluent suburbs of Oakland County, public pools simply were never built: There are 52 in private clubs, compared to 11 owned by cities, Oakland County or the Huron-Clinton Metroparks Authority, records show. It's a similar phenomenon in Macomb County, which has seven publicly owned pools and splash parks.
It's all too bad especially since the public pools that are available in the area have won awards and provide value to the community. Read More