After nearly two years of construction, the Hollywood Rec Center in Los Angeles now has a new swimming pool. On August 3, the swimming pool debuted at a grand opening ceremony, where a crowd cheered on as Councilman Mitch O'Farrell, 13th District, christened the project by jumping in fully clothed, according to Curbed LA.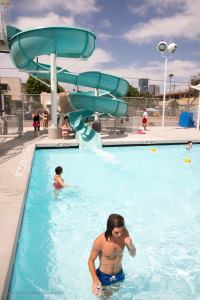 The new 9,575-square-foot pool, measuring a little larger than the previous vessel, comes complete with a swirling slide, shaded bleachers, and an integrated splash area.
Rebuilt on the site of the former pool, which was constructed in 1950, the new facility pays homage to its predecessor, with a mid-century modern pool house featuring a Googie-inspired roof. The pool house, which as designed by Venice, Calf.-based Frank R. Webb Architects, also is equipped with changing rooms and bag check.
According to Parklabrea News, the $7.6 million project, was paid for using Proposition K funding, which provides money for parks and recreational facilities.
To see additional photos and watch a video of the grand opening ceremony, click here.
Have a project you would like to have featured in an upcoming Project Spotlight, email Joanne McClain, editor-in-chief, at [email protected].