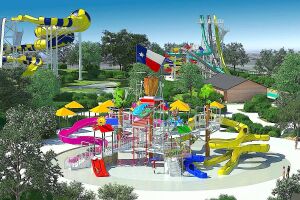 In late August, a large crowd in Katy, Texas to witness the groundbreaking for the new Typhoon Texas waterpark.
The project is the brainchild of local businessmen Keith Dalton, Terry Hlavinka, and Ray DeLaughter.
"The City of Katy has been very supportive of this project," Dalton told the Katy Times.. ''We considered several locations but selected this site due to the strong Katy community and the proximity to I-10, Grand Parkway and Katy Mills mall.
The park is expected to have a 1,500-foot lazy river, a 48-foot tall children's play structure and a number of slides. Developers will also be adding Slide Boarding, a slide that combines gaming and a ride.
Currently, Texas Typhoon is expected to be open in time for next summer starting May 2016. Read More