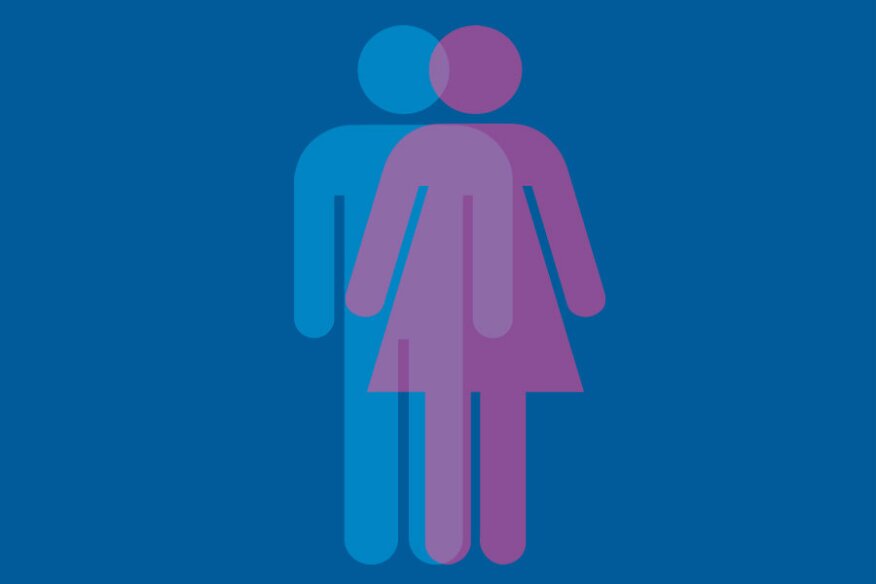 For the first time since the civil rights movement of the 1950-60s, the issue of bathroom/locker room access has become a topic for political debate. This time, the discussion is not centered on skin color, but gender identity.
Within the last several years, schools, aquatics centers, health clubs and other places offering single-sex facilities have faced lawsuits surrounding the rights of transgender individuals — those who identify with the gender opposite from what they were assigned at birth. The issue at hand is their ability to use the facilities that align with that gender. Certain states have wrestled with laws that address this issue, with some falling on the side of access and the others against. The issue also has generated several court cases initiated by both sides of the argument.
The debate about gender identity and who has the right to access which bathroom could be the next big issue facing the aquatics industry.
This is the first article in a three-part series that will explore the issue of transgender bathroom/locker room access, how it's come to a head, and how it has impacted the aquatics industry.
Arguing the issues
People on either side of this debate hold strong opinions. Supporters of transgender rights believe that prohibiting individuals from using the facilities that align with their gender identity is discriminatory. They also see it as a matter of safety, protection against the violence that transgender people often experience when they walk into what some view as the "wrong" bathroom. Those who oppose transgender access fear that sexual predators may take advantage of the laws.
Legal action has been fueled by both sides.
In October 2015, a transgender man (a person born a woman who is transitioning into a man) received a $10,000 settlement from New York City after claiming his civil rights had been violated when he was not allowed to change clothes in the men's locker room at a pool in Staten Island.
On the other side, a Michigan woman filed a lawsuit against the Planet Fitness health club chain and a local franchise. She was barred from the gym after seeing a transgender woman change in the women's locker room, then refused to stop "warning" other members about the transgender-friendly locker-room policy. She sued for more than $25,000.
Both sides have sought statutory solutions, too. Seventeen states adopted laws prohibiting discrimination in places of public accommodation based on gender identity. "Only a few other states have issued formal regulations like Washington has," says David Ward, staff attorney at Legal Voice, a firm that pursues justice for women and girls in the Northwest.
Ward was referring to a Washington regulation, passed in 2015, that allows people to select restrooms and locker rooms based on their gender identity. It is a clarification of a 2006 state law prohibiting discrimination on the basis of sexual orientation or gender identity.
Nationally, rights protecting transgender people surfaced in a landmark ruling in 2012, when the Equal Employment Opportunity Commission announced that Title VII of the Civil Rights Act of 1964 protects transgender employees from discrimination. It resulted from a complaint filed by the Transgender Law Center on behalf of Mia Macy. The transgender woman applied for a position while still a man. Despite solid qualifications, she was told she wasn't a fit after revealing her transitioning process. "As a veteran and police officer, I've worked my whole career to uphold the values of fairness and equality," Macy said in a statement. "I'm proud to be a part of this groundbreaking decision. ..."
Though the EEOC and other state agencies have made rulings regarding the rights of transgender people, the issue is not resolved. The 2015 Washington regulation has faced opposition, despite a lack of negative feedback during the rule-making process. "The folks who oppose these rules have talked about putting this on the ballot next November," Ward says. As of yet, they haven't filed anything, he said, but opponents have until early July to gather 246,000 signatures to get the issue on the state's ballot.
Regardless of the outcome, it seems transgender people will continue to use the facilities of their choice. "People just don't realize that transgender people are using locker rooms and restrooms that are consistent with their gender identity right now," Ward says. "And it's not an issue because people are conducting themselves discretely and appropriately. ... There [just] need[s] to be some education about the issue."
>>Next Month: Transgender Bathroom Access and the Aquatics Community.