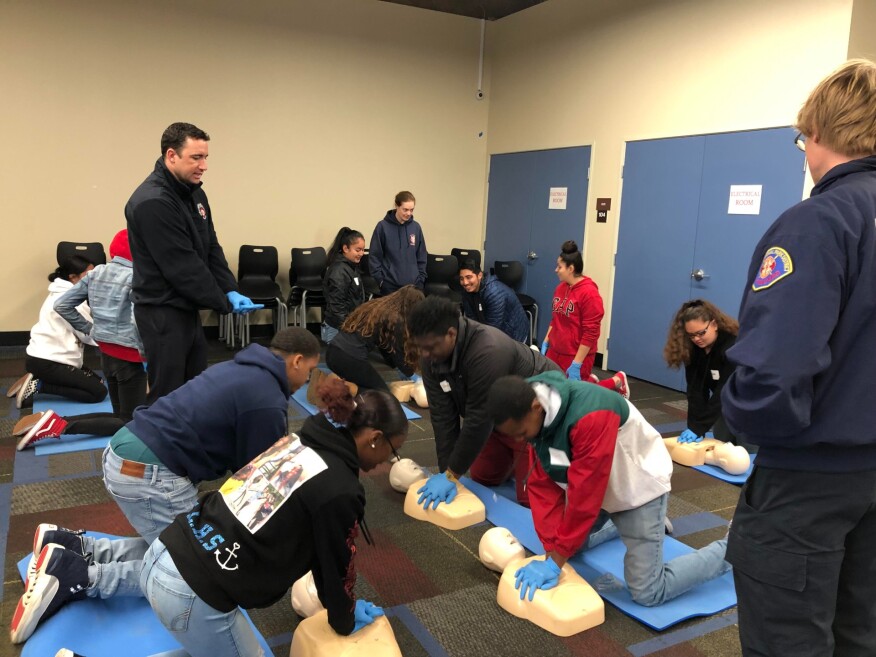 I wish I could say, "We're done with this COVID thing." Or, "COVID-19 has left the building," followed with a mic drop. But that's not the case.
Summer came and went. We did open on Memorial Day weekend; my agency prioritized recreational swimming for the public. Patron numbers initially were limited but, as summer continued, we expanded capacity numbers at all our facilities. We also provided some programming: swim lessons, junior lifeguards and junior cadets. Capacity was limited due to COVID-19 guidelines. All programs were full. Was there ongoing demand for programming? Absolutely. We just didn't have the staffing depth to expand it.
We had a successful season, which I attribute to my permanent and seasonal staff. They demonstrated a level of resilience and dedication that I have rarely seen when it comes to being a public servant for the community. They put personal opinions aside and came together to serve. I've spoken with many aquatics professionals who shared similar experiences. It wasn't easy to get staff, but those we got were exceptional.
The challenge for 2022
But how do we move forward and deal with the next challenge — the lifeguard shortage. This has been a national topic — one I believe will have long-term ramifications on how much service and programming we can provide in the future.
We need to reexamine how we recruit, train and retain staff. If the objective is to alleviate the lifeguard shortage, we need to change how we train and certify. To succeed, we must forge stronger partnerships with high schools and community colleges, with the intent of certifying new guards possibly every month. The idea that a spring-break class will supply all the staff an agency needs is obsolete. So is the idea that families will pay several hundred dollars to certify their child with only the possibly that they might be hired.
We will need to recruit and train lifeguards with the same ferocity as the military recruits soldiers. Our daily mantras should be, "What am I doing to bring more lifeguards to my community?" and "What I am doing to support my lifeguards in extending their service by one more season?"
Conviction in what we say needs to be demonstrated in our actions. If you are the leader in your agency, take the first step: It's necessary and expected. Recruitment is my priority. I'm visiting high schools within our agency's jurisdiction and having one-on-one conversations with principals. The conversations cover my need to train and develop lifeguards who serve their communities, the importance of collaboration and partnership with schools in developing public-service and entry-level job skills, and an examination of how my agency serves the student. We also look at the student's family and the school through the lens of what they need.
I've closed every one-on-one meeting with, "Is there anything I can do to support you right now?" It makes me a little nervous every time. I think to myself, "Pete, what are you doing? You're opening yourself for a doozy." And I am. But this is the only way I'm going to be receptive to possibilities of what a doozy might bring. So far, it's brought CPR classes for Health Ed, leadership presentations for clubs, mentoring and swim lessons for after-school programming, lifeguard certification to supplement PE credits, and finding pool time for a high school that has no pool. No doozies yet, but I plan on having that one-on-one conversation with 30 more principals before the year ends.
Valuing current staff
Retention starts during the season.
Veteran lifeguards are encouraged and/or expected to participate in several activities that help identify their rank and progress within the lifeguard service. Second-, third- and fourth-year guards attend a skill-builder in-service specifically designed for their tenure. Each in-service builds additional rescue skills beyond the basic lifeguard certification and regular in-services. For example, second-year guards learn surfboard rescues; third-years are trained on rescue-tube rescues; and fourth-years train on scenarios.
Veteran lifeguards are given the opportunity to begin Person-in-Charge (PIC) task books that, once completed, allow them to serve as the PIC for any of our aquatics facilities. Veteran lifeguards also can become Lifeguard Training Instructors, Water Safety Instructors, and Emergency Medical Response-certified free of charge, in anticipation of applying for leadership positions the following year. Assistant Head Lifeguards are provided additional leadership training in hopes they apply for Head Lifeguard openings.
Besides training, we offer different uniform pieces and items depending on years of service or duty assignment. This includes beanies, quarter zips, challenge coins, stickers of all aquatics facilities, and a coupon for an official lifeguard jacket given after three years of service (which only can be redeemed the following year at our lifeguard cadet graduation.)
We hold activities in the off-season to remind veteran employees that we're still thinking about them: on the Wednesday before Thanksgiving, an informational session regarding the upcoming season; a cookies and hot chocolate open house the whole week between Christmas and New Year's; and an HR application update dinner in January. We send birthday and holiday cards, personally call each potentially returning lifeguard to find out how their off-season is going and whether they plan to return. All of this helps ensure we have a large veteran workforce that can help train new lifeguards and maintain our culture and commitment to community service.
Lastly, I want to remind you that what you do is important, your community greatly benefits from all the effort and dedication you and your team does. It's noble work.