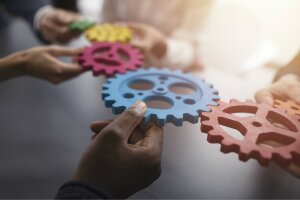 About 20 aquatics organizations are forming a new alliance to serve as an information resource and federal influence.
The Aquatics Coalition, initially coordinated by USA Swimming, plans to help promote the allowance of certain types of programming as jurisdictions find their way out of the COVID-19 crisis. However, organizers hope it continues past the pandemic in service of other objectives, said Shana Ferguson, chief commercial officer of USA Swimming, based in Colorado Springs, Co.
"This was us realizing we are all doing great things," Ferguson said. "We wanted to pull together our expertise and hear what we all had to say... This is the exact opposite of competition – it's about sharing of best practices, sharing of work done and amplifying our voices by joining together."
The organization is promoting the distinction of what it calls "purpose-driven and instructional aquatics," meaning structured and easily controlled activities such as competitive swimming, learn-to-swim instruction and safety courses. Worried about the spread of COVID-19, many government officials are reluctant to allow aquatics of any kind because they associate everything with unstructured activities like open swim. They often don't realize that purpose-driven and instructional aquatics are more conducive to social distancing, Ferguson said.
We're talking about purposeful, instructional aquatics and how to do that safetly, how to get back into good physical and mental health," Ferguson said. "We're asking [officials] to open pools for purposeful, instructional aquatics, so we can get lifeguards certified, so we can get kids water safety instruction, so we can get competitive swimmers back to good physical and mental health."
The organizations that have joined the coalition, which represent competitive aquatic sports, swim instruction, swim safety nonprofits, aquatic therapy and for-profit aquatics firms, plan to pull together informational resources to help aquatics managers and others advocate locally for the opening of purpose-driven and instructional aquatics. Over time, it also hopes to build influence on the federal level where helpful.
"We're advocating at the national level and giving tools to folks at the local level, because we know local health organizations hold the key," Ferguson said. "We can't in Colorado Springs tell somebody in Virginia or Seattle how to open pools. We can pull all these resources and research to advocate at the national level for a safer [re-entry] into the water... We know organizations at the local level don't have the resources we do."
The group recently launched its website.
The participating organizations and businesses at this point include:
American Red CrossAmerican Swimming Coaches Association
Aquatic Exercise Association
British Swim Schools
Counsilman-Hunsaker
Goldfish Swim Schools
National Drowning Prevention Alliance
Neptune-Benson/Evoqua
Pool & Hot Tub Alliance
Starfish Aquatics Institute
Streamline Brands
Swim Across America
Total Aquatic Programming
US Masters Swimming
USA Artistic Swimming
USA Diving
USA Swimming
USA Triathlon
United States Swim School Assn
Wavemakers
YMCA of the USA
The ZAC Foundation
More about Aquatic Exercise Assn.
More about Counsilman-Hunsaker
More about Starfish Aquatics Institute