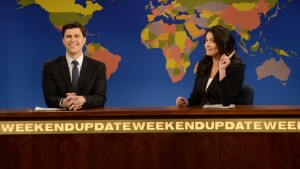 There's nothing comical about being a lifeguard. That is, of course, unless you are Colin Jost.
According to a report on A.V. Club, the head writer for "Saturday Night Live" has sold the exclusive rights to his coming-of-age movie about high school grads working as lifeguards to Netflix.
Produced by Lorne Michaels, Staten Island Summer will debut on the streaming service July 30 and will feature past and present SNL cast members, including Bobby Moynihan, Will Forte, Fred Armisen, and Jost's former co-anchor Cecily Stron.
This is the latest Hollywood effort to spotlight aquatics facilities and their operators as the central focus in a film. From Kristen Bell in The Lifeguard to Steve Carrell in The Way, Way Back, the industry recently has been featured in a number of movies that draw attention to the profession.
Of course not all of Hollywood's portrayals are accurate, especially when it comes to more serious issues such as drowning (although last summer Showtime's "The Affair" did do an excellent job of working in the topic of secondary drowning.). However, with its comical approach Staten Island Summer and its predecessors likely will bring more positive attention to lifeguard and aquatics in general. In fact, numerous municipalities continue to suffer from an ongoing lifeguard shortage, and characters like those portrated in Jost's film could potentially help to increase interest in the profession.
While we await to see how, if at all, such a film could impact hiring, perhaps this is the perfect time to start screening movies at your facility. Read More