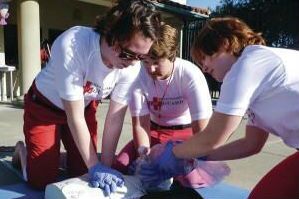 Collegiate lifeguards may someday have their very own national lifesaving championship event. Two regions within the National Intramural-Recreational Sports Association, the governing body of campus sports programs played at the non-varsity level, are organizing the very first Lifeguard Games.
A competition in the Midwest invites college and university lifeguards to participate in NIRSA Region III's Lifeguard Games on Saturday, Oct. 10 at Purdue University in West Lafayette, Ind. A Southeastern competition organized by Region II is set for Sunday, Nov. 8 at Furman University in Greenville, SC.
The games will work like this: Competing teams of three or four will rotate through several stations to demonstrate a lifesaving drill, including CPR and responses to an active drowning and to a spinal injury. Certified lifeguard instructors will judge their performance. The Southeastern tournament will also include a written exam.
Organizers hope these events establish a model for all six NIRSA regions to follow.
"We're hoping to set the formal standards for it," said Gabby Marquez, Region II's Lifeguard Games chairperson. "We're trying to bring some cohesiveness to it.
That's the short-term goal. They'd like to eventually establish a national championship event that the regional winners could advance to. First the tournaments would have to generate a bit of seed money so that NIRSA could cover travel expenses for the players, like it does with flag football, one of its most robust programs.
The lineage of the Lifeguard Games can be traced back to the University of Kentucky's Guard Wars. That program, which was not affiliated with NIRSA, ran its course, but the idea held merit. It wasn't long before an aquatics director put forth a proposal to NIRSA suggesting that the organization implement something similar.
That was in 2013. Renewed interest in the program may finally bring the games to fruition.
The Region II event has been in the works for just over a year, with the help of a 10-person committee, Marquez said.
"This is a huge endeavor for us," she said, adding that aquatic-related programming has always had a diminutive presence within NIRSA's scope of recreational offerings. "Aquatics have really never shined in any capacity."
She hopes the Lifeguard Games will change that.
Terry Huntley, who is organizing Region III's Lifeguard Games, said scheduling these competitions so they do not interfere with other college programs has proven difficult.
"You always hear of the interest, but when it comes down to it, there are always challenges," said Huntly, assistant director of aquatics at Purdue University. He noted that a previously scheduled game has been canceled due to a lack of participation.
The upcoming Midwest event isn't a sure thing. Huntley said if he doesn't get at least four teams signed up, he may have to cancel. Marquez also acknowledges that the Southeastern tournament might not get a huge turnout, but she's happy to start small.
Both feel the Lifeguard Games could be a vital training component and much-needed competitive venue. While open-water rescuers have long enjoyed spirited competitions, recreational opportunities for aquatic facility guards have been few and far between.
"If we could end up getting six regional championships, it could really give students that competitive nature," Huntley said.
For more information
Click here for details and sign-up information on the Southeastern tournament.
Click here for details on the Midwestern tournament.