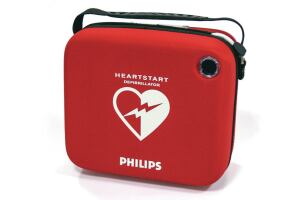 The voluntary recall of HeartStart AEDs made between 2005 and 2012 by Philips Healthcare was issued late last year and is ongoing. There is a possibility that a faulty internal electrical component may cause the devices to fail to administer shocks to persons suffering cardiac arrest.
The affected models are the HeartStartFRx, HeartStartOnsite and HeartStartHome. If a unit in use during a medical emergency experiences the electrical problem, its periodic self-test feature will emit three "chirps." Users should then follow the voice instructions that the device will provide. Once the emergency is over, contact the manufacturer immediately.
Around 605,000 HeartStart AEDs are affected, about half of them in the United States. Philips, a unit of Dutch electronics conglomerate Royal Philips NV, has notified 88 percent of customers, but is having difficulty tracking down the rest.
So in December, the U.S. Food and Drug Administration issued a safety advisory emphasizing the need for anyone owning one of these defibrillator brands to contact the manufacturer to get their devices serviced or replaced.
"There are a lot of devices impacted and the FDA needed to increase consumer awareness," said Peper Long, associate director for external relations, FDA Center for Devices and Radiological Health.
To date, 61 AEDs have been returned. There have been no reports of patients being harmed due to this issue.
"Philips … remain[s] committed to the highest standards of product quality and compliance with government safety regulations for medical devices," said Deborah DiSanzo, CEO, Philips Healthcare, in a statement. "From the beginning, following our discovery of this potential but rare safety concern, we have been working closely with regulatory authorities and customers to address this issue and will continue to do so."
For their part, aquatics associations are trying to get the word out. The World Waterpark Association is sending a safety bulletin to its members, and encouraging professionals to check the AEDs on their properties.
"While this recall is unfortunate, even if you don't have that brand, it's a good time to test the AEDs you do have, to see that they're up to date and working," said Mike Fijas, chair of the WWA's Safety Committee and general manager of Palace Entertainment-Water Country in Portsmouth, N.H.
It is recommended that the AED's pads be checked to see that they're current, and that the batteries are operational. "Make sure [the AED] is charged and functional," Lou Cirigliano said. He is director of operations at the Seaside Heights, N.J. property that includes Breakwater Beach Waterpark and Casino Pier amusement park. His facility has an AED in each park — and the general manager and her assistant are EMTs, as are security, who are off-duty police. "At any given time, we have a minimum of two EMTs and a maximum of eight or nine. Safety is too important to be taken lightly," Cirigliano said.
In the interest of safety, the FDA monitors all AED manufacturers' quality system practices. The agency saw "persistent reliability problems with AEDs from all manufacturers" between 2005 and 2012, Long said. During that period, the FDA received approximately 45,000 reports associated with AED failures, and manufacturers conducted 88 recalls. "The problems include manufacture and design control issues, such as inadequate control of components bought from other suppliers," she added.
Last year, the FDA proposed an order requiring AED makers to submit premarket approval applications for safety and effectiveness. The agency currently is reviewing comments from the public before creating the final order.
To contact Philips about an affected AED, call 800.263.3342; for more info on how to identify the triple-chirp alert, visit philips.com/heartstartmaintenanceadvisory.