You may remember going to the pool as a child on a warm summer day. Suddenly the wind picked up, the temperature dropped, skies darkened and almost out of nowhere came a flash of light and the booming of thunder. Lifeguards promptly whistled everyone out of the water, and then the counting began. Thirty minutes from the last clap of thunder or flash of lightning seemed like an eternity while you waited, huddled in the bathhouse, for the storm to pass so you could get back in the water.
Decades later, not much has changed about how we handle lightning at aquatics facilities. Perhaps it is time to question whether the current approach still makes sense. Do all pools follow the same rules for pool closures during electrical storms? What is the standard practice for clearing a pool during a thunderstorm? Does this vary between indoor and outdoor facilities? What does the evidence suggest?
These were some of the questions that I sought to explore by conducting the International Survey on Managing Lightning Risks at Swimming Pools. The debate about whether to stay open or to close indoor pools has continued for years, given the lack of regulatory oversight and conclusive scientific data. By better understanding current practices, we can challenge assumptions and explore the issue from a risk perspective. I hope this survey encourages facility-specific analysis that drives an informed decision on how to best manage such risks at each unique facility.
Survey format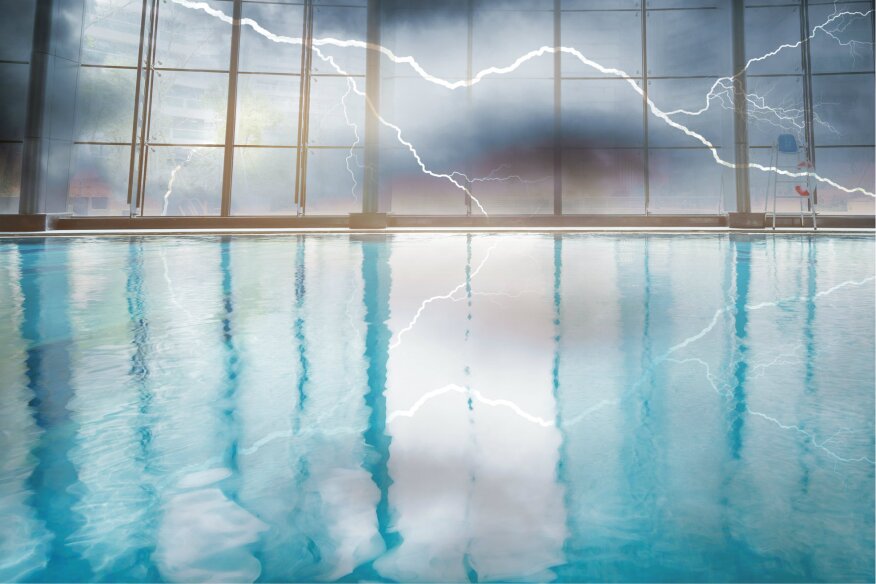 In preparing for the survey, a literature review was conducted to identify key concerns regarding lightning and swimming pool use. Information from the review was used to develop a test survey in preparation for the 2016 World Aquatic Health Conference. Initial data from 90 anonymous survey respondents was presented at the conference, and feedback was used to refine the survey for the 2019 study.
In December 2018, the International Survey on Managing Lightning Risks at Swimming Pools launched on SurveyMonkey. Links to the survey were shared aggressively across social media and on the Association of Aquatic Professionals' electronic newsletter, with a distribution of more than 22,000 contacts, many of whom operate pools. The survey closed after two months.
A total of 400 respondents participated in the survey, with the majority from the U.S., Canada and Australia. Participants were asked to identify themselves to ensure that only one response per facility/organization was counted. Incomplete and anonymous entries were removed, leaving a final sample size of 249 unique aquatics facilities.
While results may not be representative of the whole population of pools, as this is the first known study of its kind, data can be used as a benchmarking tool and guide for pool managers in the development of lightning safety plans.
Preliminary assumptions
Researchers assumed there would be uniformity in the decision to close an outdoor pool during a thunderstorm. Given the controversy over indoor pool closures and the lack of any standard or guideline, researchers expected variation in how indoor pool operators managed this risk. However, given that all national organizations recommend clearing pools during thunderstorms, it was assumed that all outdoor and most indoor facilities would remove swimmers during storm events. We found this to not always be the case.
It was also assumed that a clear majority of facilities use technology in managing the risk of storms. Surprisingly, only 65% indicated they used technology to monitor storm conditions, while the remaining 35% simply watch the sky.
Equally as surprising, nearly 50% of facilities did not designate a person or job category to monitor incoming storms.
The big questions
Here is what the survey revealed about some of the other large issues involving management during a lightning storm:
Closure distance: Mandatory closure distances varied among respondents who used storm-tracking technology. About 40% of this group remove swimmers from the water when a storm is 7 to 10 miles away, while 22.5% require closure when a storm comes within 5 to 6 miles. A smaller number implement closure at greater distances, allowing more time for patrons to seek shelter: 11-15 miles (8%) and 16-20 miles (3%).
The Event Safety Alliance states that the "goal of every Lightning Safety Plan should be to complete the evacuation of your outdoor entertainment or event space before lightning reaches the 8-mile (13 km) radius." Only 40% of survey respondents appear poised to meet this standard.
Warning of incoming storms: While nearly half of the 160 operators who use storm-tracking technology provide advance notice of incoming storms, 37% only notify of pool closures. Of those who do warn about storm activity, 17% give word once a storm approaches 16-20 miles from the venue, 13% at 11-15 miles, 14% at 7-10 miles, and 4% at 5-6 miles. A small percentage warn of impending storms based on daily forecasts alone as opposed to tracking particular storm cells.
Outdoor pools: With respect to outdoor pools, approximately 6% said they take a conservative approach, closing the pool based on changes in environmental conditions alone, such as a drop in temperature, darkening skies, or increasing wind.
The remaining 94% indicated a variety of approaches, including the most common — the "flash to bang" rule whereby the operator counts the number of seconds from the first flash of lightning to the first sound of thunder to estimate how far away the lightning storm is. Other approaches included closing at the first sound of thunder or observation of lightning, closing upon notification from a weather monitoring service or based on information from weather-related apps and websites. Operators appear to allow for multiple approaches, including closing a pool when a storm approaches a certain distance or at the first sound of thunder — whichever happens first.
Indoor pools: While many in the industry believe that indoor pools close during storms, respondents indicated otherwise. Nearly 62% of the 174 indoor-pool operators surveyed indicated that they stay open during electrical storms: 52% stay open with no change in operations while 10% stay open and warn patrons of the storm's presence. Only 38% of indoor-pool operators required swimmers to exit the water.
Where swimmers wait: Of the indoor pools that clear the water during electrical storms, a surprising 43% allowed patrons to use showers and sinks, where 34% allowed locker-room use but advised against using showers or sinks. Only 13% of those who remove swimmers from the water advise them to stay indoors until the storm passes. Nearly 18% indicated that swimmers were allowed to remain on the pool deck, with 12% saying there is no other place to go at their facilities other than the pool deck or locker rooms.
Given the seemingly contradictory recommendations offered by various organizations concerning what to do when thunder is heard, it is no wonder the survey results did not show one consistent approach. In the next installment, I will outline these various positions, present more findings from the survey, and make some recommendations.